The Last Summer Moon (Some of That Beard Love) [An Erotic Exploration] [NSFW]
by @odilongreen
Liner Notes
On August 13, 2022, one of the superskirmish themes was "The Last Summer Moon." I didn't have time to do it then, but I immediately started thinking of doing a beard romance song. Then I ... took it a bit further. So this (most definitely #NSFW in theme, although there are no actual bad words) is the result.

Although the theme arose from a skirmish, this took way, way longer than the allotted hour, so probably doesn't count as a "skirmish song" itself any more. But that's OK, because I'm actually quite pleased with how it came out. It needs to be cleaned up a bit (in execution, not theme), but I think this is a keeper for re-recording and release after 50/90.

Part of the reason it took so long is because I wrote the lyrics first, and expected to perform it as hair metal (to the best of my modest abilities). But when I actually started fooling around with by amp sim and playing and trying out melodies, it kept gravitating towards country rock (or whatever this is). So I gave up on the original vision and went this way instead (and, as mentioned above, I'm quite happy with the result).

Lastly, here's an AI generated image from Dall-E of "cartoon of woman and bearded man kissing in the back seat of a car under a full moon."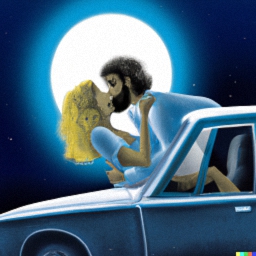 #NSFW #Beard #Sorry #SS081322G #summermoon
Lyrics
The Last Summer Moon (Some of That Beard Love) [An Erotic Exploration]

Under the last summer moon
She caressed my beard
It was a hot August night
Right before senior year

In the back of my car
We were lying face to face
She said she thought it was time
To move our love to a special place

I reached for my belt
Ready to become a man
But she grabbed my cheeks
And said she had a different plan

She said she liked the way
My beard felt when we kissed
But she was wondering how
It would feel tickling her lips

She wanted
Some of that beard love
She knew it would take her to heaven above
She wanted
Some of that beard love
'Cause she wanted the best
But maybe not the rest of me

Well a gentleman does
What a woman requires
I never did this before
But my beard was on fire

And on that magical night
My beard did not let us down
I was still a boy
But my beard sure knew its way around

I gave her
Some of that beard love
I knew it would take her to heaven above
I gave her
Some of that beard love
'Cause she wanted the best
And i gave her the best of me

And you know that in the back seat of that car
Oh, my beard was gonna take her far

She wanted
Some of that beard love
She knew it would take her to heaven above
She wanted
Some of that beard love
'Cause she wanted the best
But maybe not the rest

She wanted
Some of that beard love
I knew it would take her to heaven above
I gave her
Some of that beard love
'Cause she wanted the best
And i gave her the best of me
---
---